MCPatcher HD Fix for Minecraft 1.4.7,1.4.8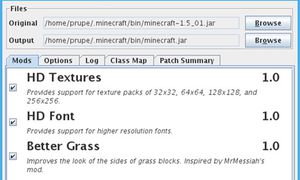 MCPatcher HD Fix is the latest version of MCPatcher for Minecraft which allows you to easily switch between texture packs in Minecraft.
To install MCPatcher HD Fix, simply double click on the Patch file. Then open Minecraft, click Mods and Textures Packs and select the pack you want. Of course, you need Minecraft texture packs already installed or downloaded to switch between them. If you still can't see them, make sure you go to the Minecraft root folder and copy and paste some some texture packs into the "texturepacks" folder.
If you want to switch between texture packs more easily in Minecraft, MCPatcher HD Fix is an effective solution.
Recent changes
Posted Image Connected Textures Mod!
Posted Image More customization options in 2.3.6. Custom sign text and xp orb colors.
Posted Image New program icon courtesy of julianfkelly.
Posted Image Animate ALL the textures! Now you can apply custom animations to any texture in the game.(Info)
Per essere informato degli ultimi articoli, iscriviti: